The issues to be resolved
OSL's old website was using an open source software and was difficult to update and tailor to its needs
the site did not clearly reflect the company's identity and didn't lend itself to supporting sales campaigns
maintaining the website required the involvement of technical engineering staff, whose core role and generation of income for the organisation was in visiting and supporting clients
featuring a full range of more than a thousand products, the site navigation was not as clear as it should have been for clients to find the information they needed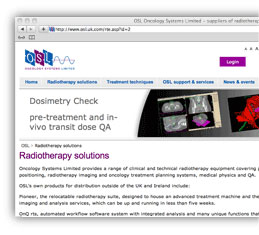 Lead generation
"The website is now an important part of our business development, and provides good quality business enquiries. The interest from abroad for our radiotherapy imaging software is something we simply would not have without the new website"
Julie Mead, Director of OSL.
Goals for a new website
The new website needed to achieve a number of objectives:
a stronger, clearer identity
easier navigation and search facility
a password protected area for customers with support contracts
an area to engage patients and hospital service users
ability to highlight featured products
tools and means to track visits and provide feedback on specific direct mail campaigns
accessibility and speed of page upload for clients in NHS hospitals
Selection of Smart Media as a strategic partner

OSL looked at a number of alternatives for the provision of its new website:
the latest open source software
a local web design and implementation consultancy
a fully fledged, flexible content management system
The company posed many questions to Smart Media regarding flexibility, ongoing development for future functionality requirements and importantly, accessibility of the website for its core customer base of NHS based specifiers and buyers. It also had to clearly understand the tangible benefits it could expect from a hosted, maintained system that incurred an annual fee compared to a free open source CMS.
The benefits of Smart Media
OSL was convinced of the benefits it would receive from the Smart Media Intelligent WebCentre hosted system, including
ease of updating existing pages and new content upload by any member of trained staff
maintenance and high availability hosting
a commitment to ongoing system development benefiting all Smart Media customers
training and support to increase staff knowledge and ability, thereby saving time and money
technical expertise to ensure high search rankings and ease of navigation for customers
The results
OSL's website was recognised in the Annual Healthcare Marketing Association Awards in the Best Website category
customers voluntarily provided feedback on the improvements and ease of finding the information they required
a survey of customers reported very high levels of satisfaction with the design and ease of use of the new website –it was rated good or excellent by 95% of respondents
visits to the website more than trebled and campaign responses could be easily monitored and feedback provided to the sales team
enquiries via the website increased significantly and subsequent analysis quantified the impact on sales
In a recent survey, the OSL website design and ease of use were rated good or excellent by 95% of respondents.
OSL Limited