A2Dominion revamp for residents
Posted on Jul 24, 2009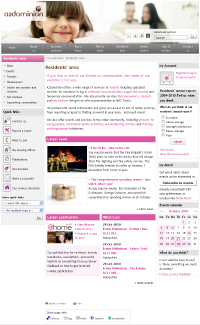 Related links
A2Dominion, one of the UK's leading housing associations, launches the new and improved Residents & Communities section of its website. Offering more interactivity and improved features, this online area engages homeowners, tenants, keyworkers, students and sheltered housing residents.
From handbooks to money matters, the Residents & Communities section has always offered a variety of valuable information for all A2Dominion residents - but now it has an interactive element too. The latest additions to the A2Dominion website include an events area and news specifically for residents.

Under the Residents & Communities section, residents can not see at a glance what events are coming up and search for events in their local area. If they find an event of interest, they can easily contact the organiser, view the event location on a map and even plan their journey using an interactive journey planner. To be kept up-to-date with all the latest events, A2Dominion residents can also subscribe and manage their subscription to event email alerts matching their specific areas of interest.

Having a dedicated Resident's news section allows A2Dominion to highlight news of specific interest to residents, which otherwise could be lost in other corporate news. Within the A2Dominion corporate website, the dedicated Residents' area is now a one-stop-shop for information for tenants, homeowners, keyworkers, students and sheltered tenants.