Online sales up over 300%
Posted on Jan 14, 2010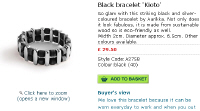 Unique wooden jewellery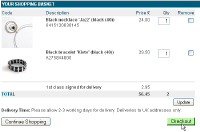 Simplified checkout process
Unique Finnish designed jewellery and Christmas decorations, made from birchwood, proved to be a hit in 2009 as online retailer Arctic Fashion witnessed a three-fold rise in sales on the previous year.
Despite challenging economic times and fierce competition from big name high street stores to smaller self-employed jewellers, Arctic Fashion successfully increased its online sales by adopting a proactive marketing strategy in 2009. A relatively new start-up business, the online jewellery retailer continually invests in resources in the efficient use of web-based marketing tools to boost its search engine rankings, reach out to potential customers and ultimately increase awareness of the Arctic Fashion brand – with obvious success.

Combined with its proactive online marketing, Arctic Fashion also ensured new and existing customers had the most positive shopping experience by offering a hassle-free checkout process and individual customer service. Their easy-to-use and secure online store is powered by Smart Media's e-retailer software.
Further information

Arctic Fashion
01256 362 545